News

"Teach for Bulgaria " in partnership with Studio X and PG " Velizar Peev" ( Svoge ) with a look at tomorrow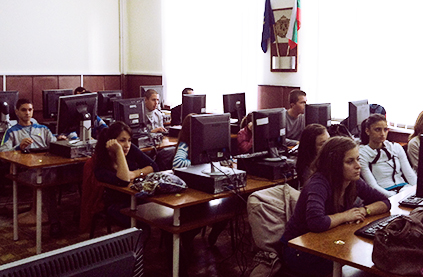 Studio X Digital in school!
"Teach for Bulgaria " is a non-governmental organization in the field of education.
"Teach for Bulgaria" is actively working to achieve equal access to quality education for every child in Bulgaria , regardless of their socioeconomic status . To achieve this objective, the organization selects and provides support for training and development of young and ambitious people to become motivated teachers , leaders in schools in need . One of the goals of the organization is to get students opportunities to meet inspiration models, which would positively affect their lifetimes .
The organization has partnered with other communities , including the Bulgarian business because of their understanding of the importance of education for the competitiveness of our economy.
Studio X Digital is an IT company operating in the fields of web design that will gladly join the initiative in the school year 2013/2014 , the Agency and the students of the 12th grade in PG " Velizar Peev" on spec " Computers and Technology " will meet together in an hour. The aim is to create interest and awareness of the students in this professional field by meeting established professionals working in the field .
12 / Nov / 2013 will be held the first of the two open lectures . Together with the curriculum we will address some basic and interesting practices related to HTML, CSS and professional requirements in the field of web design. It will be demonstrated best practices of HTML5 and some restrictions on the specifics of a browser .
We will not pass without realizing small task in class in which everyone will participate .
The visitation among students aims to provoke their interest in the front-end development and further gives them an opportunity to create interesting professional contacts .
Supported by:
1. Mr. Atanasov Stancho / Director of PG " Velizar Peev" /
2 . Studio X Digital
3 . Foundation "Teach for Bulgaria"